Pick of the Month
This wasn't easy, again.
We've had some amazing wins this month and we've really enjoyed a lot of new games.
Regular viewers of our daily streaming sessions will know that it's difficult to get us to agree completely on any slot.
That is magnified when it comes to MegaWays.
Throw in a gamble feature on a MegaWays feature and we're virtually trading punches.
For a MegaWays game to take the Pick of the Month is little short of incredible.
But here it is, the Pick of the Month for March is Red Tiger – Mystery Reels MegaWays.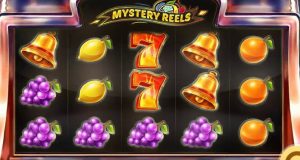 It's the least fussy of all the MegaWays slots.
Red Tiger have taken their most popular standard slot – and added MegaWays to it.
Simple, effective and infinitely-playable.
The feature gamble won't leave you desolated/fuming/feeling-robbed because unlike other MegaWays gambles you won't leave here with nothing. The 4 consolation spins are enough to give you a balance boost and see some action before you get back into the hunt. Top marks Red Tiger.
Take a look for yourself here
We're increasingly of the opinion that the stricter regulators will take moves to ban feature gambles that leave a player with 0 spins. Even if that doesn't happen, we're convinced a move to consolation spins like this is the way forward.
Oddly enough Red Tiger have changed direction with recent releases like Pirate's Plenty yet it's this resurrection of an older title with a new mechanic that pushes Pirate's Plenty into the Highly Recommended category…
Highly Recommended:
1. Pirate's Plenty – Red Tiger
2. Rogue's Treasure – Chance Interactive
3. Casino Win Spin – No Limit City
4. Extra Juicy – Pragmatic Play
Pig of the Month
The pig of the month was somewhat less difficult.
GIG games regressed again, after showing some promised with Book of Souls (a good game which just lacked polish and solid QA) they never continued with the momentum.
We live in a world that quite frankly, has enough to deal with; terrorist attacks, the rise of the far right, religious intolerance and persecution, political upheaval, Trump, Brexit… Popstar.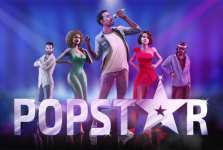 We played the game extensively of course and we canvassed opinion from our team and from other hardcore slot players, just one dissenting voice from more than 20 liked the game.
It lacks excitement, it's too busy, it's a little lazy (repeating three types of head in the crowd makes it look like a quadruplets convention), the mechanics and RTP distribution are off, it's just not a good game.
We love GiG, we really do, they have some excellent casinos (four of our Top Ten are GiG brands).
The thing is, it's just not that easy to build games, not unless you are deeply engaged with them.
You can't be data-driven when making games – if you did, you'd probably release a game featuring a Spanish Conquistador with shooting stars and a book collection feature… Hmm, hang on…
You need to empathise with the player, you need to be a player. Even then things can go wrong of course.
It's still early days for GiG games studio and almost every studio has a fair few pigs in the closet. We really hope they can turn this around and perhaps land a Pick of the Month in future.
We'll be back next month with our picks for April.
You can join us on any of the below Streams from 2 or 5pm every weekday!
What to check out next at Slotmad!
If you like to play (or watch) slots and enjoy discussing all sorts including the state of the latest slot releases etc then join in with us on twitch. We'd definitely love to have you along.
Find out more here:
Take a look at the info on our Casino Stream page
Check out some more of our News and Review of other Red Tiger Gaming slots: